On Friday October 2nd, the Youth For Change Tanzania Team delivered a workshop in commemoration of the International Day of a Girl Child (#IDG2015). The event brought together many other youth-led organizations and NGOs, as well as 45 young people from different organizations.
Held at Alliance Francaise Dar Es Salaam, the workshop provided Youth For Change Tanzania an opportunity to present their work, and a forum where young people to discuss the theme on the table, which was "The status of an adolescent girl in Tanzania".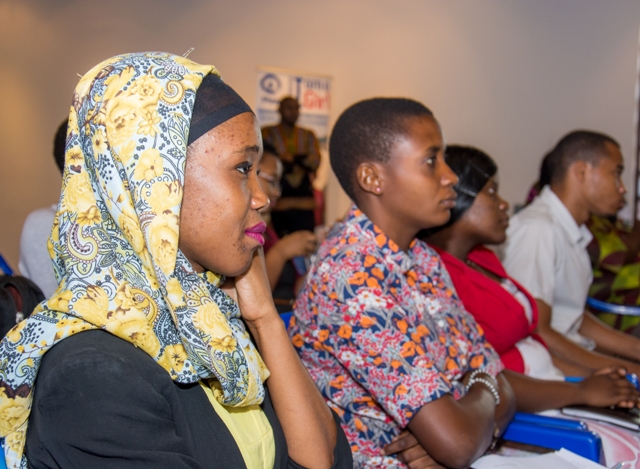 Leading the conversation were Ms. Lydia Wilbard from Camfed Tanzania, Ms. Sophia Temba from Children's Dignity Forum (CDF), and Ms. Tausi Hassan, a senior UNFPA official concerned with youth programmes. Joining then on the panel were Mr. Emmanuel Mang'ana from Plan International and a youth volunteer from Tanzania Youth Vision Association.
Ms. Temba pointed that an adolescent Tanzanian girl is at high risk of either undergo FGM or to marry before 18, adding that cultural practices and traditions are some of the reasons as to why these practices are prevailing. Ms. Jane Miller from DFID Tanzania shared with the young people her knowledge on FGM, an issue she's been working on the issue for years.
Youth For Change used this workshop to launch a petition to influence amendment of the Tanzania Law of Marriage Act (1971) which allows a girls under the age of 18 to marry with either the court or parent permission. This initiative has been spearheaded by Girls Not Brides as part of their #MyLifeAt15 campaign.
It was a wonderful session where young people shared their commitments to ending child marriage. In groups, they presented their views for how best to tackle child marriage and FGM - ideas included the importance technology, involving young people, volunteering, and of engaging both young men and women in the fight for girls rights
Tanzania's government has done a lot of work alongside civil society, but yet the problem is still there and a lot remains to be done. We need to put commitment into actions - everyone must fulfils his or her duty to end FGM and child marriage now!
For more info, check out this Youth For Change Tanzania Storify on the event.
Want to know more about Youth For Change Tanzania? Connect with us on Twitter and Facebook, or contact us here!