DISCLAIMER: The content below contains information that readers may find distressing, This includes descriptions of Female Genital Mutilation and Child and Early Forced Marriage. If you believe that you or someone else's life is in danger, call 999 (UK) immediately, or the local emergency number in your country.
If you suspect that someone is in imminent danger of FGM or CEFM, you can contact the NSPCC FGM helpline on 0800 028 3550 or Forced Marriage Unit on 020 7008 0151. A full list of organisations that provide specialist support can be found here.
The information below has been designed to provide you with comprehensive information on the issues we are tackling, and should form a good foundation for your knowledge on Gender Based Violence (GBV) with an emphasis on Female Genital Mutilation (FGM) and Child and Early Forced Marriage (CEFM).
What is gender based violence?
Gender based violence and abuse is an umbrella term for any harm that is perpetrated against a person's will. It results from inequalities that are based on gender roles and predominantly affects women and girls.
Gender equality "means that women and men, and girls and boys, enjoy the same rights, resources, opportunities and protections. It does not require that girls and boys, or women and men, be the same, or that they be treated exactly alike." Gender Inequality predominantly affects women. However, both men and women campaign across the globe to address and challenge the consequences of GBV.

Female Genital Mutilation (FGM) and Child and Early Forced Marriage (CEFM) are both forms of gender-based violence, and are direct consequences of gender inequality. Youth For Change UK are currently campaigning to ensure that they are taught in the national Relationships and Sex Education (RSE) guidance, in order to empower young women and men to recognise their rights and to prevent further harm.
What is FGM?
FGM is defined by the World Health Organisation as 'all procedures that involve partial or total removal of the external female genitalia or other injury to the female genital organs for non-medical reasons.' this can result in a lifetime of physical and psychological problems. According to UNICEF, an estimated 200 million girls and women today "could have been cut."
It is a common misconception that FGM is only performed within certain African communities. It also takes place within parts of Western Europe and other developed countries. There are 4 main types of FGM and the NHS predicts that an estimated 136,000 women are affected by FGM in the UK. It is often carried out to girls between the ages of 5-15 but it can be carried out on a child as early as one day old.
The effects of FGM are both physical and psychological. They include, but are not limited to the following:
Severe pain
Excessive bleeding
Infection
Complications during childbirth
Psychological trauma
Death
What is Child marriage?
Child marriage is 'any formal marriage or informal union where one or both of the parties are under the age of 18' (Girls Not Brides). According to UNICEF 12 million girls under 18 are married every year.
It is a direct consequence of gender inequality and the belief that girls and women are somehow inferior to boys and men. It is a complex issue, and not limited to one culture or belief. It is established through gender inequality but sustained through other issues such as dominant masculinity, poverty, lack of education and cultural practices.
In many instances, the "honour" of an individual or their family can also be upheld through forced marriages, this is a prime example of "Honour Based Violence" (HBV). HBV can occur for many reasons, but in most instances, it is associated with the pride of a family, and how instances of "dishonour" can bring embarrassment and shame to an individual.
The consequences of child marriage are not limited to the domestic sphere. It can also lead to higher mortality rates: 700,000 girls die per year worldwide due to childbirth complications that arise from having a baby before their body is ready. Furthermore, evidence shows that girls who marry early often abandon formal education.
Power
Gender based violence stems from the desire to maintain a status quo that has benefited those most privileged within our societies. Power dynamics, when threatened, are used to enforce restrictions upon those most vulnerable within our society, and this predominantly affects women and girls.
FGM is carried out for various cultural, religious and social reasons within families and communities, in attempt to limit a woman's sexuality and to establish and encourage a culture in which men enforce and maintain a certain status quo.
Some mistakenly believe that FGM will benefit the girl in some way, for example, as a preparation for marriage or to preserve her virginity. However, there are no benefits, and it serves as a way for males to maintain an established patriarchy and to exercise their perceived masculinity and power.
There are no acceptable reasons to justify FGM. It is a harmful practice that is not required by any religion and there are no religious texts that support it. There are no health benefits to FGM.
Child marriage can occur when a girl reaches the age of puberty, it is seen as a natural progression for them to become wives and mothers. It is also an opportunity for families to lessen their own financial hardships by transferring the 'burden' to another family.
The need to protect honour and maintain power is at the foundation of child marriage in many communities, as it serves as a tool to control female sexuality. This includes how a girl interacts with males, the clothes she should wear and who she should be married to.
Both FGM and child marriage occur without consent. Consent is giving permission for something to happen, or giving your agreement to do something.
Identifying GBV
How to spot the signs of FGM:
A girl or woman who's had FGM may:
have difficulty walking, sitting or standing
spend longer than normal in the bathroom or toilet
have unusual behaviour after an absence from school or college
be particularly reluctant to undergo normal medical examinations
ask for help, but may not be explicit about the problem due to embarrassment or fear.
How to spot the signs of child marriage
Girls being withdrawn from school, removed from a day centre or prevented from going into further or higher education
A decline in a behaviour and engagement with school; poor exam performance results
Girls being under surveillance by siblings or cousins at school
Peak Times where girls are at risk
For both FGM and child marriage, school holidays (summertime, in particular) are the peak time for young people to be taken overseas.
With child marriage, some girls are told they are going on holiday to visit family abroad, but in fact, a marriage has been planned.
Once abroad, victims are often even more isolated than they might have been in the UK and getting help is more difficult.
Laws
The numbers of young people at risk of gender based violence has prompted the government to introduce legislations designed to prevent GBV and to protect those already affected.
The Law and FGM
FGM has been illegal in the UK since 1985 due to the prohibition of female circumcision act and has been amended by the FGM act 2003 which tightened regulations surrounding the effects of performing FGM abroad.
Furthermore, section 74 of the SCA 2015 introduced mandatory reporting of FGM in England and Wales
This legislation places a legal obligation on regulated health and social care professionals and teachers to report any cases of FGM to the police under the following circumstances:
A girl under the age of 18 has disclosed that she has been cut, or
They (the professional) observe the physical signs which indicate that she has undergone the practice.
The harsh reality surrounding FGM cases is that there has been a lack of prosecution - in fact there has never been a successful prosecution of FGM in the UK.
However, it is important to keep in mind, what is most important is that there are preventative measures put in place and that affected girls and women get the help they need whether medical or otherwise.
The Law and Child Marriage:
Although there is no 'mandatory reporting' clause regarding Child and Early Forced marriage, it is regarded as a form of child abuse under UK law, especially if the victim is under the age of 16 (as 16 is the legal age of consent for marriage in the UK)
There are forced marriage protection orders including the following:

Section 1 of the forced marriage (civil protection) Act 2007 allowed courts to make Forced marriage protection orders (FMPO) to prevent forced marriages from occurring and to protect those who have already been forced into marriage
The order can include prohibitions, restrictions or requirements to protect a victim from a spouse, family member or anyone involved.
Involvement includes, but is not limited to, aiding, abetting, counselling, procuring, encouraging or assisting another person to force or attempt to force a person to marry.
FMPO's can last for a specified time or, if the court so desires, the FMPO may be set for an indefinite period, i.e. until varied or discharged.
The order can relate to conduct either within or outside of England and Wales.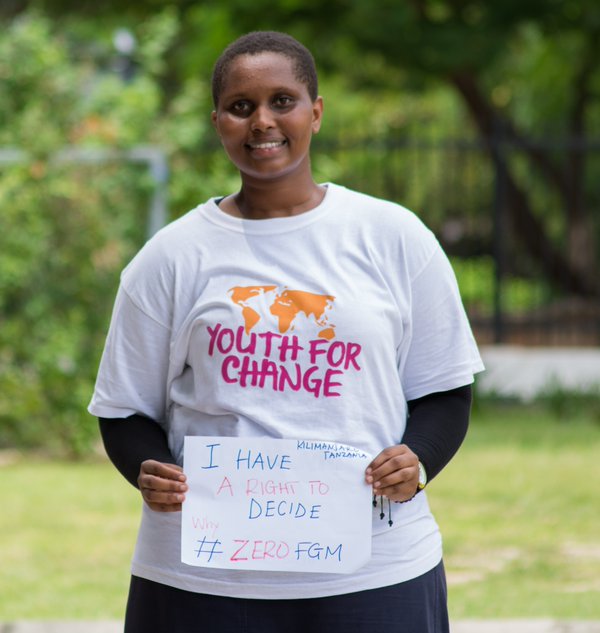 How can i help
There are a number of ways that you can help to prevent or report Gender Based Violence:
Report it. If you or someone else you know is a victim or at risk of GBV, you need to report it immediately to a trusted adult – this could be your parent, your teacher, your GP, social worker or police. If you wish to remain anonymous, a list of helplines and organisations are given below which you can contact to seek advice or make anonymous reports.

Speak out. An important step in the fight against gender based violence, is simply raising awareness of GBV amongst your friends and the community. You can do this by sharing this quiz on social media, such as Facebook and Twitter and adding your voice to the conversation using the hashtags #EndFGM and #TrainToProtect.

Take action. Turn your voice into actions, see if there are any volunteering opportunities in your local area by clicking here.
Join the Youth for Change global movement! Youth for Change is an entirely youth-led network of activists, so we rely on the voices of young people to spread our message and help put an end to gender based violence. Click here to find out how you can support our campaigns.